Our company, JiaJun auto accessories manufacturing Co., Ltd. has been in titanium performance parts business for over 14 years, we are the earliest manufacturer for titanium products in China. Our products have been already sold to major part of the world, such as: USA, Germany, Japan, etc. We're the OEM manufacturer of lots of brand names of these countries. We are also willing to develop some special designs for our customers.

Our products include Titanium performance exhausts, Titanium intake manifolds, Titanium Tower Bars, Titanium Wheel Nuts, Titanium Screws and all the other Titanium products that you can think of.

Our company has already passed the ISO standard and we're fully respecting our customer's patents and copyrights. If the customer provides their own designs, we will guarantee that they will be the only one can have that products.

We hope that with our good products can bring our customers a great fortune.

Our brand
Aerospace Grade Titanium
kaze exhaust systems are made exclusively with aerospace grade titanium alloy. The performance benefits of titanium in automotive exhaust applications have been established for years. Light weight, high strength and excellent resistance to corrosion and rust – titanium works! However, because of the high costs traditionally associated with titanium, its use has been mostly limited to race cars and top-of-the-range road cars.

Each Kaze exhaust system is:
. Made with full aerospace grade (GR1) titanium alloy for super lightweight performance (60-80% weight reduction in most applications)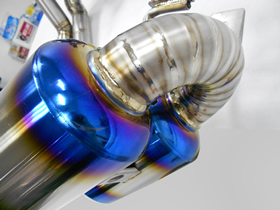 . Developed with ultra strong SEAMLESS piping – more resilient to speed bumps and scrapes than the seam-welded pipes most manufacturers use
. Created with ultra high-flow pressure tooled design – our pressure tooling reduce / eliminate multiple welds and improve flow 10-15%
. Designed to utilize minimal bends and optimum pipe sizes, allowing for more flow and increased power
. Manufactured to be a complete bolt-on system with no cutting required
. Packaged with everything needed to install the product
From the race track to the car show,then to the street, Kaze is dedicated to making high quality performance titanium exhaust systems that will meet your needs and budget.

The Result
When you put it all together, Kaze exhaust systems are second to none.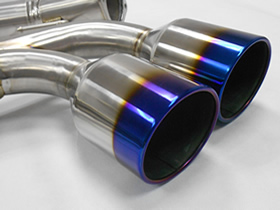 - Quality – finest materials available along with high craftsmanship
- Performance – extremely lightweight combined with high horsepower gains
- Style – unmatched style of a full titanium exhaust designed specifically to fit your vehicle
Our commitment to quality, performance and style stands out among all the others.